European Clusters Alliance

Europe is facing the challenge of transforming into a fair and prosperous society, with a modern, resource efficient and competitive economy. Mobilisation of the industry for a clean and circular economy via deeper cooperation across value chains as well as the use of digital, sustainable solutions and disruptive innovations are critical. Our business innovation ecosystems should be integrated around clusters, which actively support the transformation of industry.
The Union of Slovak Clusters has participated in the establishment of the European Clusters Alliance (ECA) – the bottom-up initiative that gathers 12 National Cluster Associations, representing more than 700 clusters. The initiative was driven by the need of making the voice of clusters more heard at European level and recognising the national cluster associations as dialogue and policy support partners.
European Clusters Alliance elaborated the position paper that informs about the mission, objectives and tasks of ECA.
---
Clusters for Next Generation EU: Dialogue between European Commissioner Thierry Breton and the European Clusters Alliance
To help repair the economic and social damage brought by the COVID-19 pandemic and kick-start European recovery, the European Commission proposes a major recovery plan for Europe which was announced in the Communication COM(2020) 456: Europe's moment: Repair and Prepare for the Next Generation on 27 May 2020. European Commissioner Thierry Breton and the European Clusters Alliance explored the role of clusters in this Recovery Plan in a virtual meeting on 30 June 2020.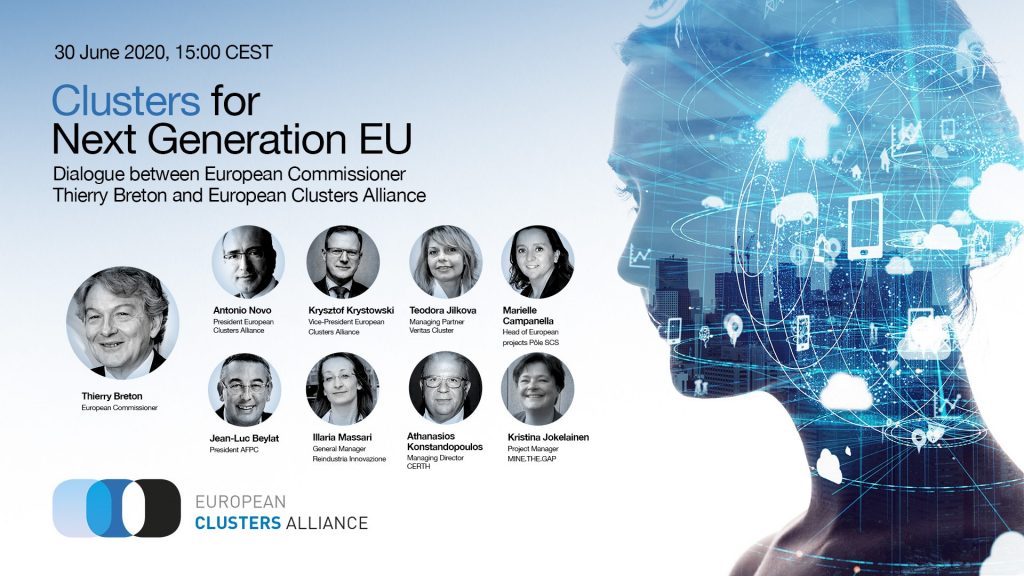 Conclusions from the meeting with European Commissioner and ECA